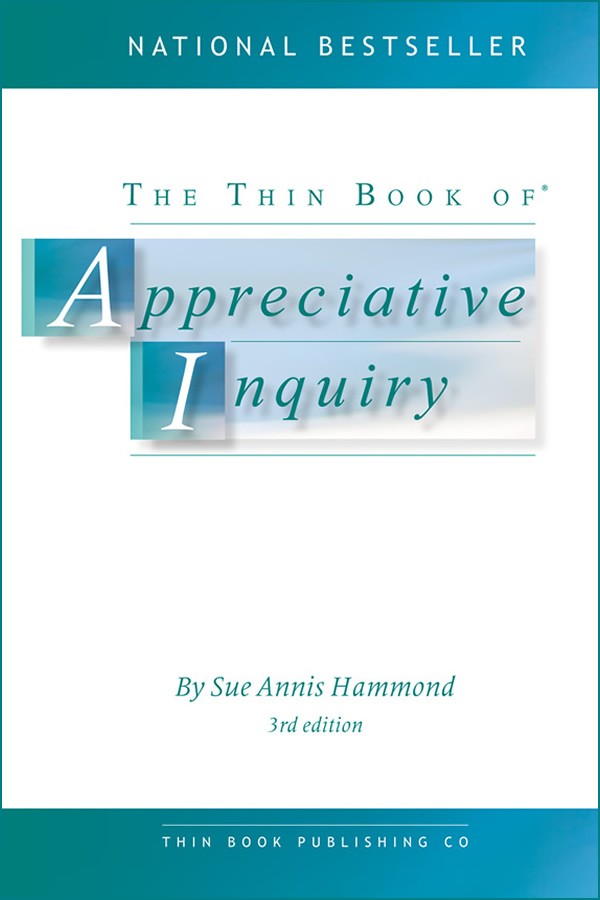 Thin Books
The Thin Book of Appreciative Inquiry
By Sue Annis Hammond
This best-selling classic provides a great introduction on what appreciative inquiry is and how to apply it. Sue has updated the 3rd edition with the latest research and new examples.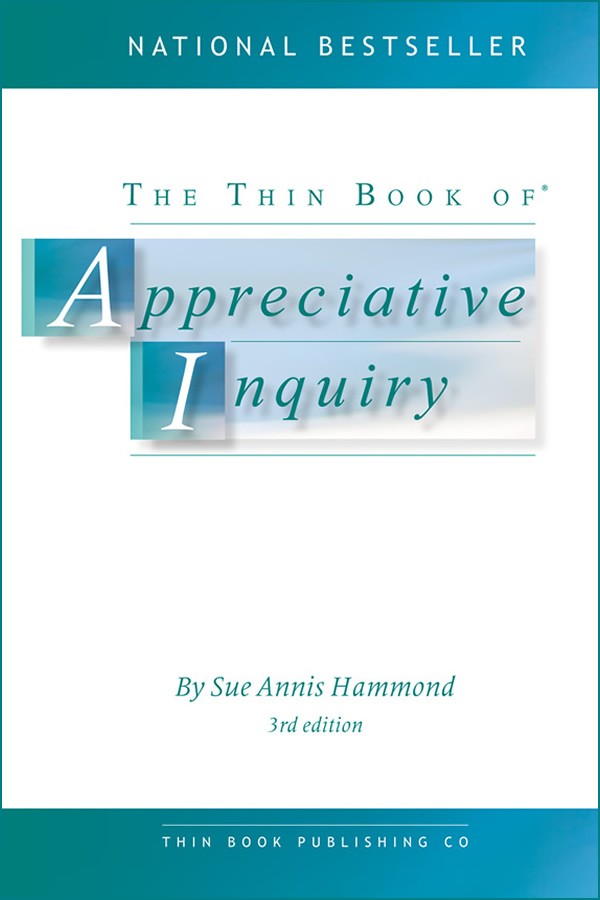 Additional Info
The Thin Thin Book of Appreciative Inquiry is the introduction to the exciting organizational change philosophy called Appreciative Inquiry. Appreciative Inquiry is a way of thinking, seeing and acting for powerful, purposeful change in organizations. It is particularly useful in systems being overwhelmed by a constant demand for change. Appreciative Inquiry approaches change by assuming that whatever you want more of already exists in all organizations.
While traditional problem-solving processes separate, dissect, and pull apart, Appreciative Inquiry generates affirming images that pull people together. People discover what the organization does well, how it does it and design ways to do more of what works. Unlike a cookbook approach to change, Appreciative Inquiry is a thought process.
The book is written in simple language and includes references on where to go for more in-depth study.
Quantity Discounts
The following quantity discounts are available on all thin books:
10 to 49 books - 10%
50+ books - 15%
If you'll qualify for a discount, contact us before placing your order. We'll provide you with a coupon to apply to your order when you check out.
We apologize for any inconvenience, but this is due to the limitation of our web hosting site.
About The Author
Sue Annis Hammond is a Change Management Consultant with a unique combination of extensive consulting and entrepreneurial experience. She has more than 30 years of consulting experience, including 10 years of internal work at Meredith Corporation and Principal Financial Group.
Sue is a nationally recognized expert in Appreciative Inquiry, a process that changes the focus from finding out what is going wrong to discovering and expanding best practices in organizations. Her first book The Thin Book of® Appreciative Inquiry is a national bestseller, with sales in excess of 180,000 copies. Sue started Thin Book Publishing in response to the book's success and customer requests for more "thin books". The company is devoted to publishing "just in time" cutting-edge knowledge for organizational clients.
Thin Book Publishing has published 8 books, two of which have been honored with industry awards. Seven of the books are still available in paperback and/or ebook format. Her latest book is co-authored with Andrea B. Mayfield and is called, The Thin Book of® Naming Elephants: How to Surface Undiscussables for Greater Organizational Success.
Sue completed a Masters of Organizational Development at Bowling Green Graduate School of Business, where she was the 1991 Minninger Foundation Fellow. She also holds a B.A. and a M.A. in English from SUNY Fredonia, and currently lives in Bend, Oregon. She can be contacted at sue@thinbook.com.
Book Facts
Quantity discounts available for quantities of 10 books or more. Contact us for further information.
Paperback: 56 pages
ISBN: 9780988953802
3rd Edition, 2013